Soul Pancake explores how art inspires hapiness
This is based on a study
The Greater Good Society profiles seven artist's perspectivse on why we make art.
Strengths Mined: Creativity, Appreciation of Beauty, Capacity to love and be loved, Authenticity,
I make art for a few reasons. In life, we experience so much fragmentation of thought and feeling. For me, creating art brings things back together.

I like expressing emotions—to have others feel what it is I'm feeling when I'm photographing people.

I make art primarily because I enjoy the process. It's fun making things.
While most of us are not artists, not in the sense of making a living in things, I suspect most of us can relate to the sentiments described. Indeed art is important. A London School of Economic researcher found it to be among the MOST important things in making us happy: Of the top six most happiness-inducing activities, again after sex and exercise, the other four are all arts-related. They are, in descending order: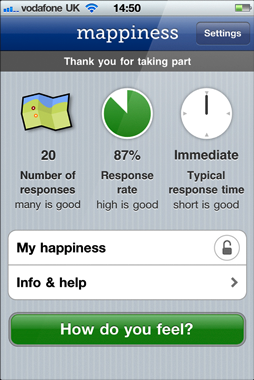 1) Intimacy/making love
2) Sports/running/exercise
3) Theatre/dance/concert
4) Singing/performing
5) Exhibition/museum/library
6) Hobbies/arts/crafts
Want to join the research? Download Mappiness app and follow the directions.
Be Sure to Check out Julian's efforts and funnyy story