"Entrepreneurship is the art of turning an idea into a customr."

–Gallup
Gallup, who originated the first strengths assessment with the Strengthsfinder, now has a new tool, The Entrepreneurial Strengthsfinder:
Gallup's researchers and economists embarked on a decade-long study to identify the talents that successful entrepreneurs possess. Applying the same rigor Gallup used to develop the Clifton StrengthsFinder, we created, tested, and refined the Entrepreneurial StrengthsFinder assessment….The assessment reveals a person's unique ranking and intensity of the 10 talents of entrepreneurship.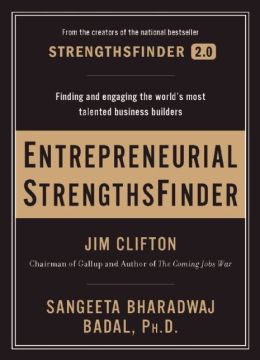 So while it shares a name with the original tool, the The Entrepreneurial Strengthsfinder diverges. It is not simply a rehashing of the 34 strengths, but rather a clear refinement, zeroing in on the ones that make successful entrepreneurs. Interviewing 5000 people, they identified the following 10 themes:
business focus, confidence, creative thinker, delegator, determination, independent, knowledge-seeker, promoter, relationship-builder and risk-taker.
Your personalized report also reveals whether each of the 10 talents are a dominant, contributing, or supporting talent for you. This remindes me of REALISE2. Unfortunately, no sample reports are available yet. At a cost of $40, it is a substantial investment for a student, but for a budding entrepreneur this could prove an invaluable tool that will give helpful insight and direction to applying your talents.
Gallup has anounced a book some time this year. Amazon is listing it for 39.99–save a whole penny off the assessment.
This I bet will be a welcome addition to the strengtsh development world. Bosses can savor "Strengths-Based Leadership." For educators: "Teach With Your Strengths." The sales force gets "Strengths Based Selling." There's even a book for frisky middle-schoolers: "StrengthsExplorer for Ages 10 to 14."
Gallup has posted a video in the Called To Coach segment which explores and explains this new tool.